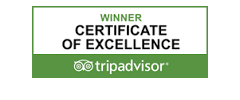 "Most beautiful place that we have ever stayed."
5 of 5 stars. Reviewed July, 2018
In Early June my wife and I traveled to the Southern end of the Osa Peninsula and stayed 3 nights at Laguna Vista Villas. Just getting there was an adventure. We flew in a small single prop Sansa Air plane from San Jose to Puerto Jimeniz and then took a 4 wheel drive taxi across the Peninsula to Carate Beach. We saw Toucans, Macaws, Capuchin and Spider monkeys and crossed multiple rivers on the way. When we arrived we were stunned by the beauty of Laguna Vista. Perched high above the ocean and lagoon, surrounded by lush tropical gardens it was one of the most beautiful places that we have ever stayed and we have traveled independently for many years. We stayed in Amapola Villa. It had a deck with a soaking pool that overlooked the lagoon, Carate Beach and the Pacific ocean. The bath and shower were open to the view and the lush vegetation yet were totally private. The rooms were clean and well maintained and featured hardwood trim. We awoke each morning to the bird calls of Scarlet Macaws.
We were greeted by the owners, Greg and Kieko who treated us like we were family. Each evening we joined Greg, Kieko and other guests for dinner and conversation. The food was wonderful but the the conversation even more so. There was a range of very interesting people from many parts of the world. If you preferred a quiet meal with just the two of you there were small tables available, all with a fabulous view.
Greg and Kieko connected us with a local guide, Gary Gomez, to take us into Corcovado National Park. Gary grew up in Puerto Jimeniz and clearly loves the birds, animals and natural beauty of the area. It was an all day trip. Gary has an encyclopedic knowledge of the plants, birds, animals and insects in the Corcovado. We highly recommend Gary if you travel to the Osa Peninsula. Other activities include swimming, horseback riding, hiking, and kayaking.
We are already talking about a return trip. It was a privilege to stay in this incredible place.
"Heaven on Earth"
5 of 5 stars. Reviewed July, 2018
This was truly an amazing experience! The hotel is located in a very unique spot above the lagoon in Carate. Getting there is an adventure in itself as this is a very remote area of Costa Rica, which makes it even more special. The views over the lagoon and the Pacific, both from the room and the common areas, are second to none and each room (cabina) is very private, meaning that bathrooms with no walls make sense! LagunaVista is also pretty unique in terms of wildlife on and near the property. Several types of monkey were often playing in the mango trees overlooking the pool and the cabina patio, and we saw scarlet macaws, many other birds, butterflies, frogs and of course crocodiles and caymans in the lagoon as well as a sea turtle and tapir on the nearby beach. The owners, Greg and Keiko, are the most wonderful hosts and made us feel really welcome. Their story about how they built the lodge up from scratch is worth listening to. They were also able to recommend activities and we went trekking in the Corcovado national part, horseriding on the beach and kayaking in the lagoon, all of which are recommended. We travelled as a family with teenagers and everyone had a great time. I highly recommend LagunaVista to anyone who is interested in wildlife and nature and who wants a comfortable alternative in beautiful Carate.