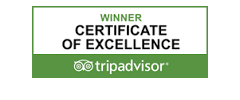 "Wow! Wow! Wow!"
5 of 5 stars. Reviewed March 17, 2016
After arrival and intake by the wonderful Martine, who took exceptionally good care of us and was very thorough in her explanations and recommendations in the area. We were served a delicious lunch by Coco the chef. We didn't actually make it to our room till a good hour and a half after we arrived. Once we did... Whoa! I did seriously ask my partner to pinch me because I couldn't actually believe I was actually witnessing a view that beautiful. The also have a spectacular deck that you can watch some pretty spectacular sunsets. We had an outta this world wonderful time and the service was top notch. I would not hesitate to recommend the staff and the Villa to anyone, I can't wait to get back there one day.
"Heaven on Earth"
5 of 5 stars. Reviewed March 16, 2016
Perfect for couples and for peace and quiet. This place is stunningly beautiful with excellent customer service. We were lucky enough to have Coco cook for us as he is an exceptional chef and person, who made our experience even more delightful. We highly recommend staying here and doing the hike into Corcovado Park but you can also see plenty of Macaw's, Humming Birds and even Capuchin Monkey's on the property.
Room Tip: Ask for a Toucan villa with a plunge pool